Contemporary management of common primary care dental conditions
08.06.2022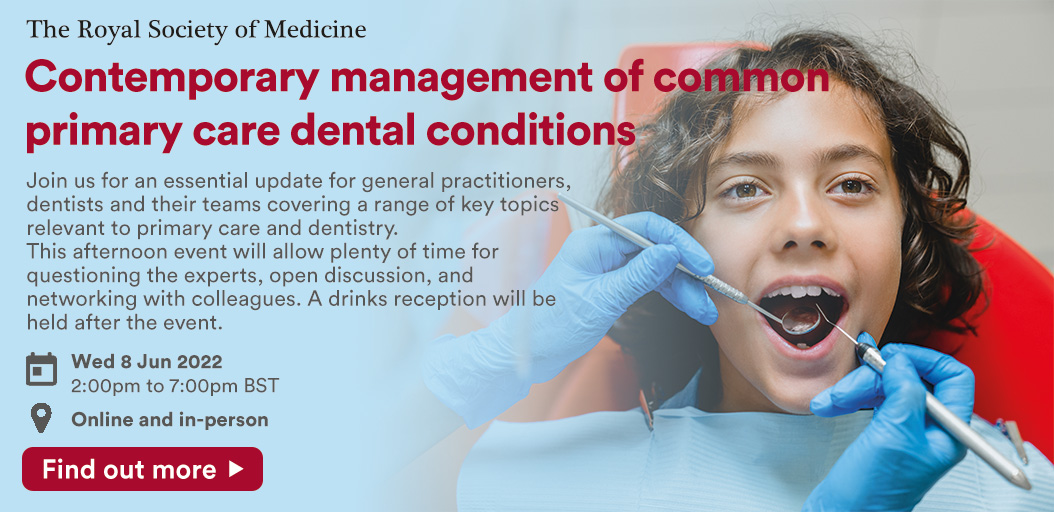 Date: Wednesday 8 June 2022
Time: 2:00pm to 7:00pm (BST)
Location: Royal Society of Medicine (This event will is also available to live stream.)
CPD accredited
The Royal Society of Medicine is pleased to offer this course, which is an essential update for general practitioners, dentists and their teams covering a range of key topics relevant to primary care and dentistry.
Join us at this educational event which will allow plenty of time for questioning the experts, open discussion, and networking with colleagues across healthcare. Please join for a drinks reception which will also be held after the event.
Key speakers include: Professor Iain Chapple, Professor of Periodontology, Consultant, Restorative Dentistry and Director of Research, Institute of Clinical Sciences, College of Medical and Dental Sciences, University of Birmingham, Birmingham Dental Hospital and School of Dentistry, Professor Nick Barker, Local Dental Network Chair and Professor, Oral Health Sciences, NHS England and NHS Improvement, University of Essex, and many more.
Registration link: https://rsm.ac/3LJzl5S