An interview with …Dr Nick Claydon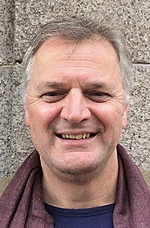 What is your position in the BSP and what does this role involve?

I am the Chair of the Practitioners Section. This is a position of great privilege as I represent the interests of the largest group that makes up the membership of the BSP.

My primary responsibility is to attend Council meetings where I present the views and concerns related to Periodontology and Implantology of General Dental Practitioners. As a Specialist practitioner, I am also able to effectively contribute to the BSP Council proceedings.

As an active Council member, I am responsible for arranging and delivering a General Practitioners forum at the annual BSP Conferences. This is an invaluable opportunity for practitioners to interact with the committee members of the Section and for issues to be added to the Council agenda for consideration.

A secondary responsibility, but no less important is to represent the BSP at the Royal College of Surgeons (England) where I attend the Specialist Advisory Committee. I am instructed to engage in the committee proceedings such as reviewing training standards and outcomes for Specialist training, evaluating current Specialist trainees and feeding back the directives of BSP Council. Each meeting I attend is minuted and presented to BSP Council for their consideration.

Where are you based during your working week?

I am very fortunate to have a working week that reflects my various roles.

I am the principal and owner of Rhiwbina Dental Surgery. We are a 2-centre private practice based in North Cardiff. I am fortunate to be able to work with fantastic people in lovely surroundings for 3 days of the week.
I spend one day a week at Bristol University where I am a Clinical Research Fellow with the Clinical Trials Unit. This is the largest of its kind in the UK and I have had the privilege of receiving a long service recognition award in 2018 for my 25 years. As well as research, I help to shape and deliver the Undergraduate curriculum, supervise postgraduate researchers and teach on 2 units of the MSc program in Implantology.
For the last day of my week, I am fortunate to be one of the Clinical Lecturers for the MSc Implantology program at Cardiff University, where I have helped shape and deliver a fantastic, practical program for the last 5 years.

Which aspect of your job do you most enjoy?

I particularly enjoy the challenges that each of my separate roles bring and the hope that my participation makes a difference.

What's the career highlight you are most proud of?

I would say that this would be the peer recognition I received in 2015 when I was invited by Professor Iain Chapple (the President at the time) to become a Faculty Member of the BSP in recognition of my 'standing as a learned scholar of Periodontology and Implant Dentistry'.

If you could do any other job what would it be?

A pilot!

How do you spend your leisure time?

Most of my leisure time is spent relaxing at home. I love watching sport (rugby in particular) and still play tennis every week. I need to spend more time in the gym as I also love eating and drinking with my family and friends

Do you have any pets?

Not out of choice! I had a cat while I was in University who ended up living for 24 years. When he died, my children kept bringing kittens home, so now we have 3!

What was the last thing you read in digital or in print?

I am an avid reader who dropped the habit in my 20's in favour of academia. I read a lot while on holiday because I can enjoy a book uninterrupted. The last one was CJ Sansom's Tombland set in 1550's featuring Matthew Shardlake as an investigative lawyer.

What is your favourite type of music?

I collect first press LP records of late 60's and 1970's rock. My favourite is a press release LP copy of Dark Side of the Moon.

What has been your most memorable vacation and why?
Travelling and supporting the British Lions rugby to South Africa, Australia and New Zealand. It is a great excuse to travel to and explore three fantastic countries. Especially when they win!