CDO Societies and Associations briefing - 4th October 2018
Dr Mike Milward represented the BSP at the CDO Societies and Associations briefing session on the 4th October at the BDIA show at the Excel in London.

The sessions had presentations from Sara Hurley (CDO), Janet Clark (deputy CDO), Eric Rooney (deputy CDO) and Andrew Taylor (head of programme Office of the Chief Dental officer).
Sara Hurley summarised progress with reforms and the integrated approach that is being taken to health and social care. She discussed the importance of oral and systemic health and the concept of 'putting the mouth back in the body'.
The current development of the NHS strategic plan is a key opportunity to integrate oral health and work together with other healthcare professionals to deliver high quality patient care. The financial constraints were mentioned and the need to prioritise key aspects of patient care.
The presentation covered the issues of contract reform and clinical leadership. In terms of contracts, 76 prototype practices have been recruited with a further 50 planned by April 2019. The contact delivery needs to be commensurate or better than the current UDA system, some issues have been highlighted and 17 further recommendations are being discussed.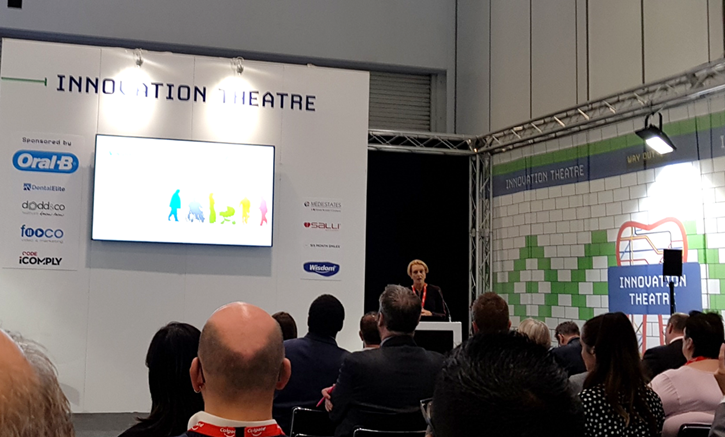 Janet Clark went on to discuss quality improvements, with new policies and pathways especially the link between diabetes and oral health, and discussed the importance of periodontal treatment in reducing the medical burden on diabetes management. She referred to the toolkit that has been developed to help in diabetic management pathways in order to provide best patient care.
Record keeping standards and the Commissioning standards were presented with the Restorative guidelines currently in the final stages of approval and are due for publication late 2018. She also indicated that the publication of recent commission guides for providers and performers had been successful and thanked the working groups (with BSP representation) for helping generate these key documents. The presentation also discussed the dental workforce and a need to develop flexible career pathways to help improve recruitment and retention.