EFP - New team takes helm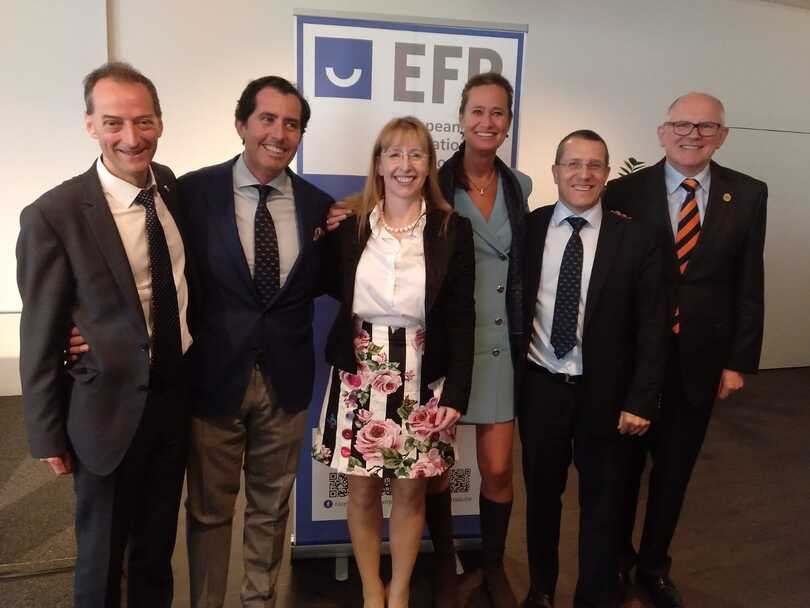 The EFP general assembly in Bern (Switzerland) held on Saturday 30th March marked a "changing of the guard" with a new team taking over key roles on the federation's executive committee.
Professor Iain Chapple, who has served as Secretary General for the last three years, handed over the reins to Professor Nicola West. At the same time, Professor Joerg Meyle (Germany), who has served two three-year terms as Treasurer was succeeded by Dr Monique Danser (Netherlands). In addition, Professor Filippo Graziani (Italy) became President for the next year, following Professor Anton Sculean (Switzerland).

Iain Chapple, Professor of Periodontology and Head of the School of Dentistry at the University of Birmingham, was previously Treasurer (2007-2013) and Chair of the Scientific Advisory Committee (2014-2016), in which role he created and edited the EFP's research summary JCP Digest, remarked,
"The last 3-years have involved a step change in the EFPs trajectory, driven by fantastic workshops and EuroPerio meetings, Master Clinics and some sensational projects with our EFP Partners. Our reach is now truly global and that is evidenced by our new International Associate Members joining this year. The term as SG started for me with a new Strategic Plan, and we have exceeded delivery on that thanks to our Professional support team led by Sharon Legendre (my 1st appointment as SG) and of course fantastically supported Monica Guinea. I know I am passing the reins to someone in Nicola who will excel in continuing this growth and success – it's time for a refresh of officers, and for me to hang up my EFP probe. I will miss the EFP more than anyone realises…. a wonderful family of likeminded people."
Nicola West, Professor of periodontology at the University of Bristol, added:
"I am truly honoured to accept the position of Secretary General and would like to thank the EFP for the confidence that it has shown in me. I relish this wonderful and exciting opportunity and in particular, acknowledge that I am following in the footsteps of a great leader, Iain Chapple. He has inspired and energised the EFP by motivating and empowering everyone to achieve. My vision is to continue this journey, to develop, to nurture and to grow the ongoing success of the EFP.
I am delighted to be working with everyone at the EFP, especially Monique Danser as Treasurer. As Iain already mentions, Sharon (Head of Operations) and Monica (European Co-ordinator) are unstinting in their contribution to the EFP and I thank them for their continued support.
I look forward to my tenure. It will be my pleasure to work with you all, to promote the EFP and periodontal health!"