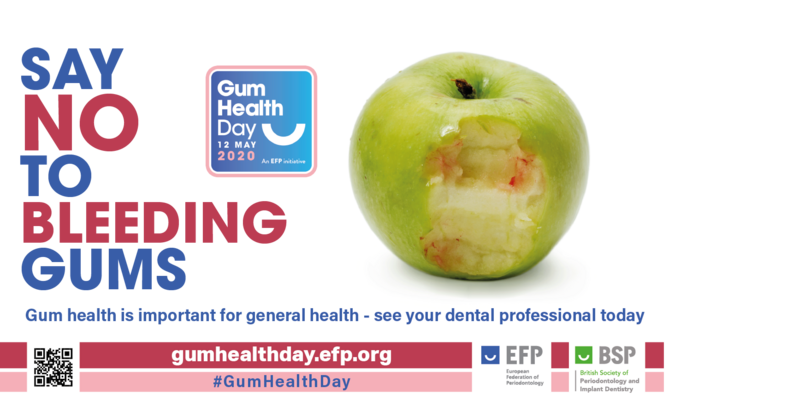 More than 40 countries joined forces today to celebrate Gum Health Day 2020 – from Europe, the Americas, Africa, Middle East, and the Asia-Pacific region.
"Say NO to bleeding gums" is the slogan for Gum Health Day 2020. The BSP seeks to raise public awareness of the importance of identifying bleeding gums as a sign of gum disease. This awareness initiative encourages people with bleeding gums to visit their dentist, hygienist or therapist for a dental examination, including periodontal screening.
This year, together with the kind support of GSK, producers of Corsodyl, the BSP planned to join forces with our Undergraduate Representatives from UK dental and hygiene therapy schools to promote the campaign in and around the UK dental schools. Due to COVID-19, the public events have now been postponed until later in the year.
The BSP has made resources available to its 1,500+ members to share with their patients in practice, including information leaflets, powerful videos and images. We have also run a Gum Health Day lockdown challenge on our social media platforms, which has been a huge success in engaging the profession.
If you don't already, please follow us on our social media platforms:
Facebook: British Society of Periontology
Twitter: @BSPerio
Instagram: britishsocietyofperiodontology
We very much look forward to rescheduling our public events in the future, with the support of our Undergraduate Representatives. In the meantime, the UG Committee has created a fantatsic video, "Don't Rush, Just Brush". Link to view: https://youtu.be/Xjy3_Jkz9no