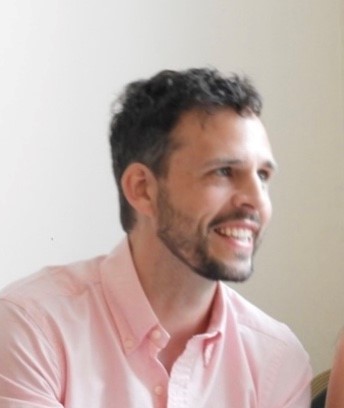 We sat down with our new Honorary Editor, Dr Alex Pollard, to ask a few questions about his role, including his plans to further develop the way the Society communicates with members. Here is what he had to say:
BSP is delighted to have you join Council. Can you firstly tell us a little bit about yourself?
Thank you. It is an honour to be involved with the BSP!
Well, I grew up in Cornwall and haven't strayed too far from there, currently living in the Southwest along with my wife, and my furry best friend (half cocker spaniel/ half labrador).
I am just coming to the end of my specialty training in Periodontology and work between Bristol Dental Hospital and Musgrove Park Hospital, Taunton. I am lucky to work with some truly inspirational colleagues who are passionate about periodontology.
When I am not at work, I try to spend time in or near the sea, eating tasty food, and I am a sucker for a Wes Anderson movie.
You have already been involved in several BSP projects. How did you find that experience?
During the first lockdown I was invited to take part in a series of BSP workshops that aimed to interpret the EFP S3 level clinical guidelines for the treatment of stage I-III periodontitis and make recommendations for implementation into the UK dental system. It was at this point that I learned the word 'adolopment', which is basically a consensus approach to the adoption, adaption or development of existing recommendations. I had previously been involved in writing one of the systematic reviews that the EFP S3 Guidelines were based on, so it was fascinating to have been involved in the process from the very beginning. At first, I felt a little intimidated being in the workshops, as there were some very prominent people there, but as we all know, Periodontology is a friendly field, and I was made to feel very welcome.
After the workshops finished there was a need for a flowchart to accompany the main paper, which would convey the key messages from the BSP Implementation of the S3 Guidelines in a more digestible format. I was part of a small group who designed the flowchart. It was interesting to be involved in making the flowchart. When you have so little space to convey the messages of a 72-page document, every word counts! As part of the release of the paper and flowchart, I also had the opportunity to work with the BSP's media team and be involved in a video that went out alongside the written documents. It was quite nerve-racking being in front of the camera and I would not say it is something that comes naturally to me, but it was so nice to be involved and I am hoping that the process will be more natural if I do it again in the future.
What are your plans to further develop the ways the Society communicates with members?
I have to say that I am extremely impressed with the huge amount of effort that goes into Society communications. Not only in terms of keeping members up to date, but also the wider dental community, public and patients. I will certainly be working hard to maintain the momentum of the excellent ongoing work by the BSP Editorial Team.
I aim to continue to develop those channels of communication which form an integral part of our membership growth and collaboration with other health professionals. I recognise that it is important to have good and effective communication, as it enables us to achieve and maintain strong, lasting working relationships at all levels of the BSP.
My plans include further developing the new user-friendly website, to feature multimedia materials that reflect fresh ideas and research and keep all categories of membership up to date with the world of perio and implants.
I have started to get involved with social media platforms by helping to spread the BSP messages to ensure that they are seen by as many clinicians as possible and to correct any misinformation that sometimes arises on these platforms.
As we develop our clinical content, I would hope to see a rise in our social media followers. If you don't already follow BSP, I would encourage you to do so!

@BSPerio

British Society of Periodontology

britishsocietyofperiodontology
Which topics are you most interested to cover in the journal?
I love reading journals and keeping up to date with the latest research. However, I recognise that we don't always have the time to do this. I intend to pick out clinical articles and news that will be of interest to our members and where appropriate, interview people and produce interesting, short videos.
I am very keen to engage with all categories of our membership and I would be grateful if you could contact the BSP and let us know if there is any content that you would like to see more or less of. Whether that is summaries of journal articles, interviews with academics or clinicians, anything really. Maybe you have something interesting to share with the BSP community? If so, just get in touch!
What are the current challenges facing the dental community?
As we know, the Coronavirus Disease pandemic has had far reaching effects. Although we are never short of work, we have not yet seen the number of referrals return to pre-covid levels within the secondary care units that I work in. This may be an indication that there are still problems for patients trying to access routine primary care dental services, and it seems like it is going to be a long road back to 'business as usual'. Nothing seems as simple anymore, as we must now consider when we can do AGP procedures, how much fallow time is needed for different clinic rooms, all whilst trying to keep up to date with the ever-changing guidelines. It is easy to see the effects that the changed working patterns have had on the morale of colleagues in all dental settings.
Despite these challenges, I have been immensely proud of the dental professions over the last 18 months whilst they supported the national Covid effort. From working in intensive care units, to delivering vaccinations or working in urgent dental care hubs. One big positive of the pandemic is that it seems to have opened communication channels between dental colleagues, and I really hope that we all keep in touch more going forward.
As Honorary Editor, what are your plans for the Periodical magazine?
The year 2021 will continue to be challenging for the dental profession. It will take time to understand the way that Covid has changed the way the world operates. We will need to be adaptable over the coming years and support our colleagues if they are struggling.
I would like to encourage members to engage with the BSP more widely. You could apply for one of the prizes or awards, or you could help us to celebrate our prize winners. I would encourage people to send in clinical cases so that we can develop a library of cases for peer learning – I would like to see more people getting involved with this (hygienists, therapists and dentists). The cases don't have to involve fancy surgery, as we also want to see examples of best practice, such as a challenging case, dealing with a complication, or how you have implemented the S3 guidelines in your practice - I am often amazed by the results of good quality non-surgical treatment! You will see I have already pushed this initiative in the July e-newsletter.
We invite you to be part of the dialogue in the Periodical – do you have an idea for an article? We also love to share good-news stories and interesting items on our social media channels and website news page. If you think you've got news you would like to share with the BSP membership, please contact us.
Please send any ideas for future articles to:
Paula Dunn
BSP
PO BOX 261
LIVERPOOL
L26 6WP
Email: admin@bsperio.org.uk