NHS Clinical Entrepreneur Programme - Applications Open 5TH October 2021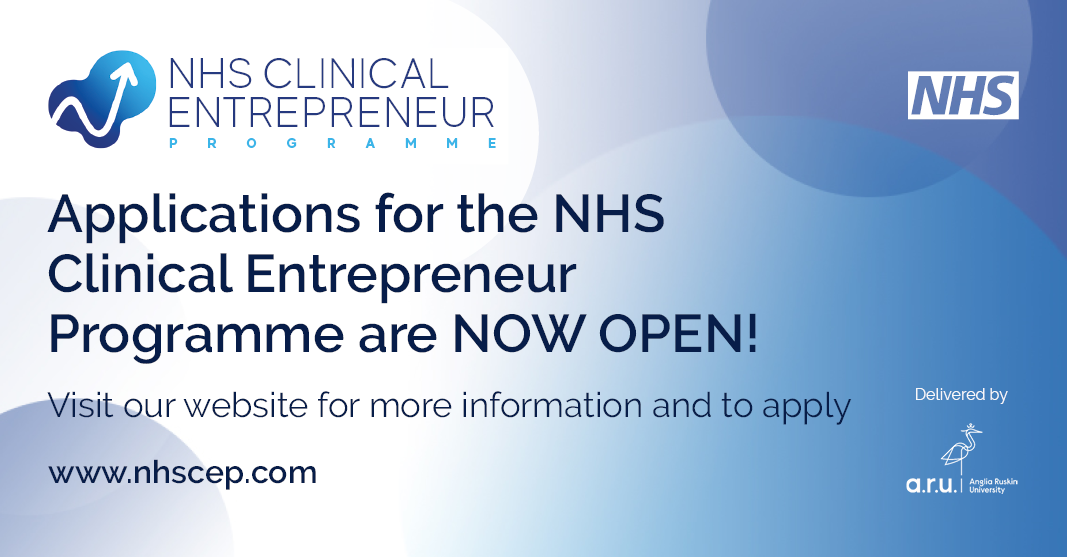 The NHS Clinical Entrepreneur Programme is an educational workforce development programme designed for NHS staff and those providing NHS services who want to develop and scale their most innovative ideas for patient benefit. The programme was launched in 2016 and we have already recruited over 700 individuals including Pharmacists, Doctors, Dentists and Healthcare Scientists, Nurses and Midwives, and Allied Health Professionals from a range of diverse backgrounds. Places on this prestigious programme will be offered, through a competitive process, to applicants who have developed clinical innovations to improve patient care and support service redesign through commercial and non-commercial enterprises.
The programme will be jointly managed by NHS England and Improvement and delivery partner - Anglia Ruskin University has been developed with entrepreneurial clinicians, academic leaders, and industry partners. The curriculum covers all aspects of setting up and running a small business, including attracting investors, applying for funding, and ensuring appropriate corporate governance.
Support on the programme includes:
Mentoring and coaching – from an acclaimed international faculty including commercial and public sector, financial, clinical, academic, and managerial leaders and achievers.
Access to a series of educational 'pit stops' offering bespoke practical sessions on a range of key commercial topics.
Customer matching – establishing relationships with providers/customers to deliver pre-commercial procurement opportunities.
Possible entrepreneurial placements/internships – with industry, charities, social enterprises and public sector organisations with both partner-funded and self-funding options.
The recruitment process for Year 6 of the Clinical Entrepreneur Programme will open on the 5th October 2021. For further information and to apply please visit www.nhscep.com