NHS Regional Clinical Fellowship Scheme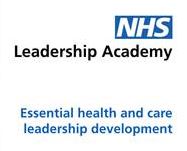 Please find below an email from Rahcel Moses, the Head of Clinical Leadership Development for NHS England & NHS Improvement, regarding the NHS Regional Clinical Fellowship Scheme:
There are 7 days left to apply for our NHS Regional Clinical Fellowship Scheme open to all of the 7 professional groups AHPs, Doctors, Dentists, Midwives, Nurses, Pharmacists and Scientists. Aimed at clinicians working at the equivalent at B7 level. We are funding 25k of salary contributions to host organisations so clinicians can be released on a 0.6 FTE to participate in a fully funded 12 month leadership development programme led in partnership from NHSEI People Directorate and FMLM. Successful participants will participate in a multi-professional leadership programme led at regional level with structured learning, development, mentoring and project work.
Closing date 23rd March 2022 at 5pm
More information at https://www.fmlm.ac.uk/clinical-fellow-schemes/nhs-regional-clinical-leadership-fellow-scheme
What is it?
The NHS Regional Clinical Leadership Fellow Scheme offers multi-professional clinicians with the opportunity to work in regional systems, leading improvement projects across clinical pathways, retaining a clinical role and increasing their leadership capabilities.
The scheme is open to the following professional groups that meet the essential eligibility requirements: dentists, pharmacists, nurses, midwives, healthcare scientists, allied health professionals and doctors (including public health specialty trainees from a background other than medicine and trust grade, staff grade or associate specialists). Full eligibility requirements can be found in the information pack.
How it works
Clinical Fellow will be based in NHS regional teams across England for 12 months from 1 September 2022 to 31 August 2023. Posts are less than full time (0.6FTE) and clinical fellows will lead on key projects that contribute to regional and national priorities including the recovery, reset and implementation of learning from Covid-19.
What it offers
The scheme offers clinicians the unique opportunity to work within NHS Regional Teams in England to gain experience of system leadership, transformation, and service improvement, which will equip them with the skills they need to lead within a complex and integrated NHS of the future.
The FMLM education programme supports leadership development and learning and will be facilitated across the fellowship period. In addition, on completion, fellows will join an active Alumni Scheme to support ongoing leadership development, access to additional opportunities and expanded networks.
Any questions please do email myself and Emma Emma.Marrison-Taylor@leadershipacademy.nhs.uk
Kind regards
Rachael
Rachael Moses (She/Hers)
Head of Clinical Leadership Development
Leadership & Lifelong Learning, People Directorate
NHS England & NHS Improvement