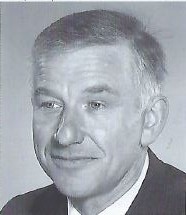 It is with great sadness that we must inform our members of the sad passing of Professor Alan Dolby.
Alan was a much-loved member of the Society, serving as President in 1982-83 and bestowed with Honorary membership in 2020.
Professor Nicola West has fond memories of Professor Dolby, who was one of her tutors at Cardiff Dental School, and she has kindly written the following obituary:
Alan qualified in Dentistry from the Royal Dental School, where he met his wife, Barbara.
He completed 2 years National Service, with all of his time based in Singapore. He then went on to study Medicine at Cardiff University. During this time, he also worked part-time at a Cardiff Dental Practice to help support his young family. By this time he and Barbara had two young children, Andrew and Lizzy.
On graduating in Medicine, Alan held a variety of House Officer jobs within the hospital. Later, he was invited to join the staff of the new Cardiff Dental School as lecturer in Periodontology: a position which was allied to Oral Medicine and Pathology.
During this time he did an MD thesis, based on studies in minor aphthous ulceration, which established his research interest in immunology. Alan quickly built up a strong team of clinical and laboratory staff, during which time he was promoted to Senior Lecturer Honorary Consultant in Periodontology. Together with colleagues in Oral Medicine, Alan led this team, which was prolific in research in immunology and clinical studies.
Alan was proud to appointed to a Chair in Periodontology, which was the first such honour awarded in the U.K.
He developed a national and international reputation and developed strong friendships with many colleagues at home and abroad. He was in great demand to lecture at events.
At home, he set up a MSc programme in Periodontology. Dental graduates from home and around the world attended this one-year course, with quite a few extending into a PhD.
Alan had a great thirst for knowledge, which extended outside Dentistry. He and Barbara shared a passion for European languages, in particular French and Spanish. Alan eventually retired circa 1994 and he and Barbara continued to pursue their interest for travel both throughout the U.K. and abroad: both were avid National Trust visitors, often staying in National Trust accommodation.
Unfortunately, Barbara sadly died circa 2016. Alan continued their enjoyment for travel and language: even up to his death he was attending Italian classes and driving around the U.K. His travelling abroad was recently curtailed although he did manage to visit his daughter and family in Australia circa 2017.
Alan lived life to the full and his services to the field of periodontology was outstanding. He shall be remembered by his friends and colleagues with great fondness.