Success for Periodontal Practice in the UK's - "Private Dentistry Awards 2011"
Emsworth Specialist Practice has been awarded runner-up in the prestigious UK Private Dentistry Awards 2011 in the category "Best Periodontic Practice". The national awards ceremony took place at a glamorous event at The InterContinental Hotel London, Park Lane on Friday 4th November 2011. The occasion was attended by dentists and their teams from all over England, Scotland, Wales and Northern Ireland.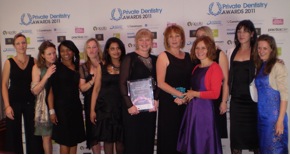 The practice, which opened in 2006, provides specialist treatment for patients from Hampshire, West Sussex and the Isle of Wight; all of whom are referred by their own general dentists.
The team at Emsworth Specialist Practice is lead by Dr Amanda Biddle and includes 3 periodontal specialists, 4 dedicated dental hygienists and very experienced dental nurses and support staff. Patients are well looked after in a relaxed but hi-tech environment. The practice is situated in a beautiful early 1800s grade II listed property in Emsworth Town centre. All the latest techniques are available for patients.
The Practice is no stranger to awards as it was also recently recognised by the British Dental Association as a "BDA Good Practice".
Dr Amanda Biddle is a specialist in periodontics and oral surgery and trained at Guy's Dental Hospital where she still teaches. Amanda said, "I am delighted that the whole team has been recognised for its hard work and excellent patient care in these prestigious awards. We have shown that effective gum treatment works and with the right approach tooth loss can be prevented. This is a vital local service. We want to highlight the seriousness of bleeding gums and encourage people to visit their dentists early if they think they may have a gum condition. Prompt action will certainly avoid unnecessary tooth loss and suffering."