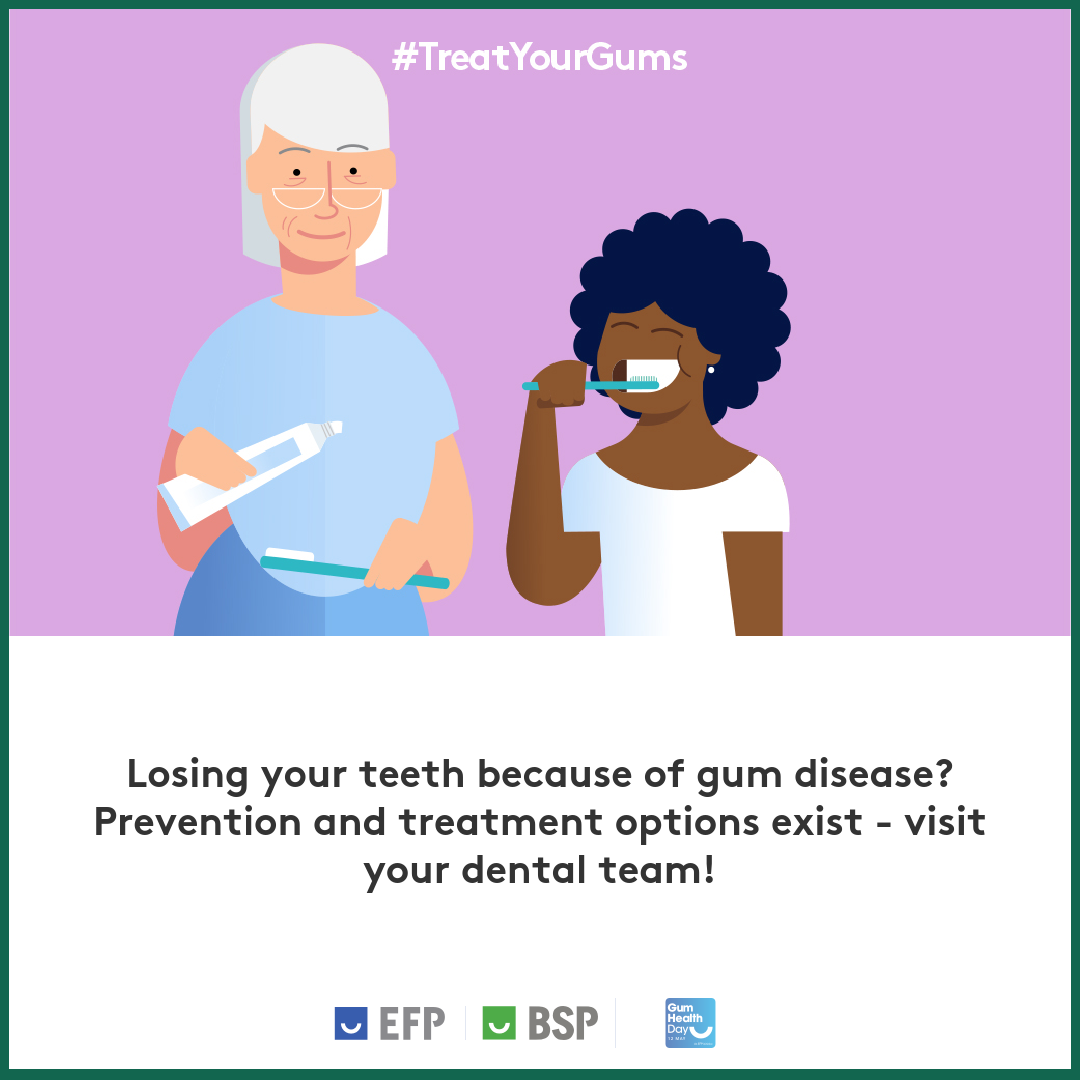 The BSP Team will be celebrating Gum Health Day (GHD) on 12th May. This is an international awareness day, spearheaded by the European Federation of Periodontology (EFP), which aims to increase public awareness of the seriousness of gum disease, the health problems associated with it, and the importance of keeping our gums strong and healthy.
This year's GHD campaign will focus on interventions to prevent or treat gum diseases and the official slogan is "Treat Your Gums". The EFP chose this strapline as they are aiming to transport the important work undertaken on the classification and clinical practice guidelines – and strongly emphasise the important role of well-informed clinicians.
The EFP are encouraging all National Society members to use a Custom Content Generator website, which allows you to create customised layouts for posters and social media posts around the slogan "Treat your gums". We would encourage you to take a look and download resources to share in your practice waiting rooms, with patients and on your social media platforms: https://www.efp.org/gum-disease-general-health/gum-health-day/campaign-builder/
In addition, we are working with our BSP Undergraduate Representatives and have invited each Dental and Hygiene/Therapy school to engage with the public, either on Campus or at a local busy space i.e., a train station, shopping centre and hand out leaflets relating to periodontal disease and answer basic questions. Keep an eye out on social media to hear more about their exciting plans!
We would love to hear about the ways you will be supporting Gum Health Day this year. Please share your images with us on social media or send to: admin@bsperio.org.uk Let's join together in raising public awareness of gum disease and encouraging people to visit their dentist, hygienist or therapist.
Gum Health Day - BSP online challenge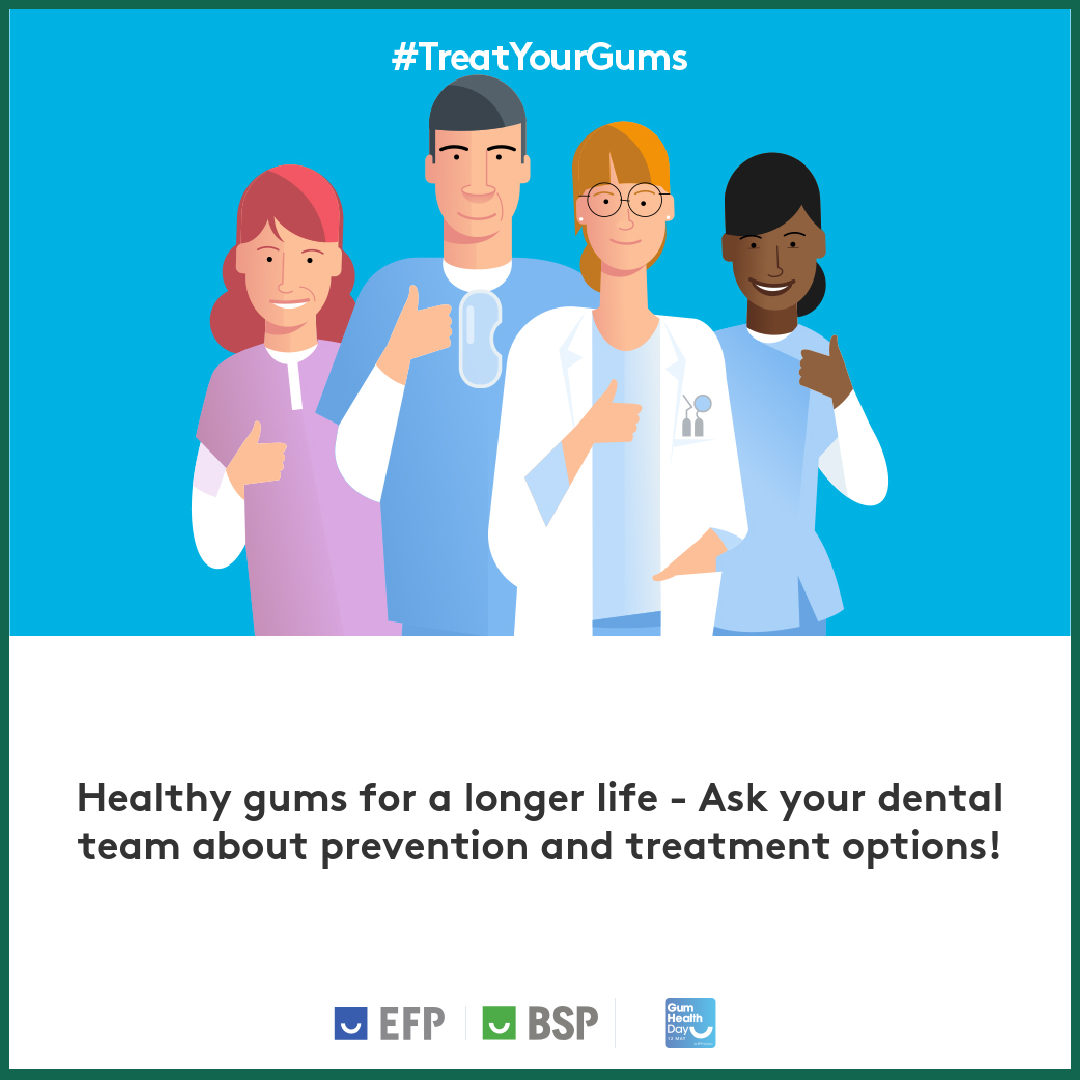 BSP Undergraduate Representatives - engaging with the public
A huge "thank you" to our BSP Undergraduate Representatives and Perio Tutors from Dental and Hygiene/Therapy School around the UK, who carried out public events to promote Gum health Day.
They set up stands in busy locations and handed out "Periodontal Health for a Better Life" leaflets to members of the public and worked incredibly hard to promote the importance of gum health.
Here are some of images of the events that have taken place so far, with more events planned for later in the month.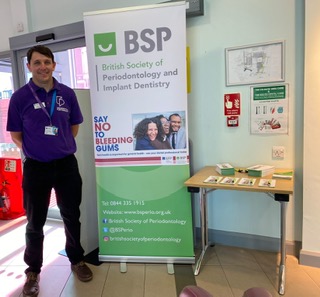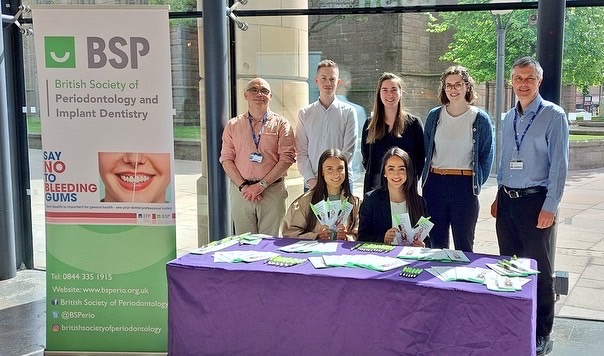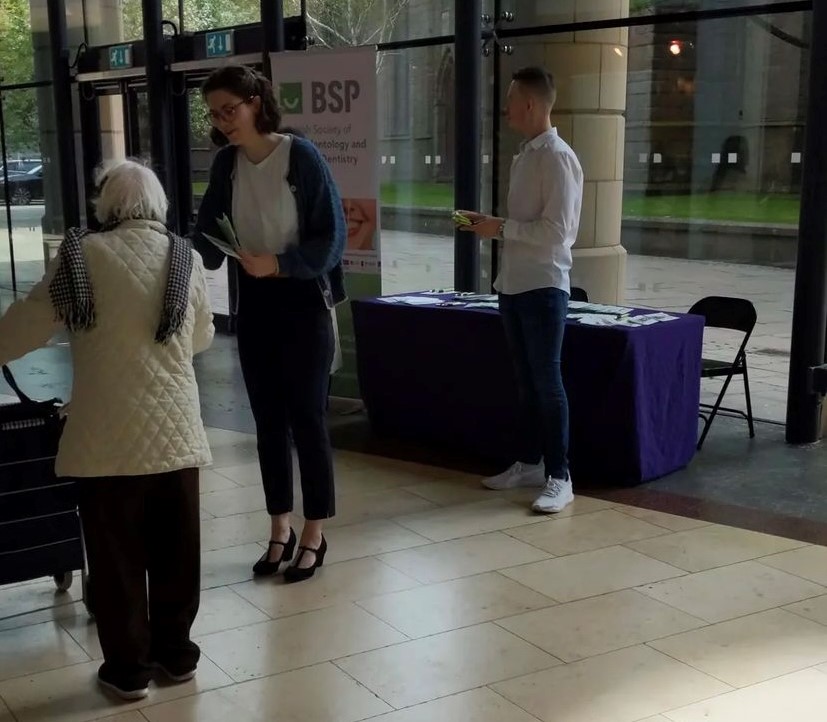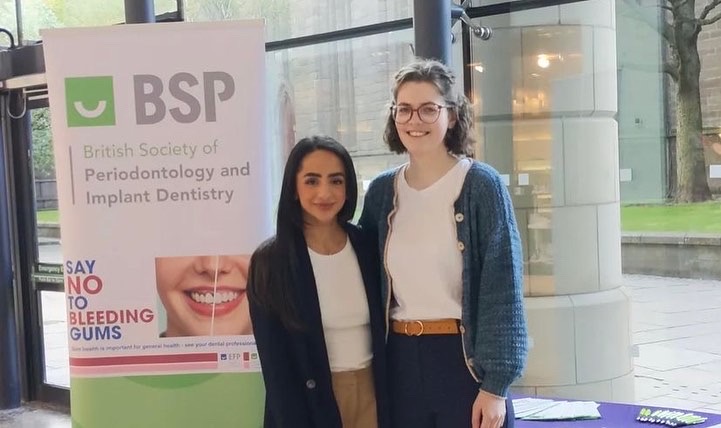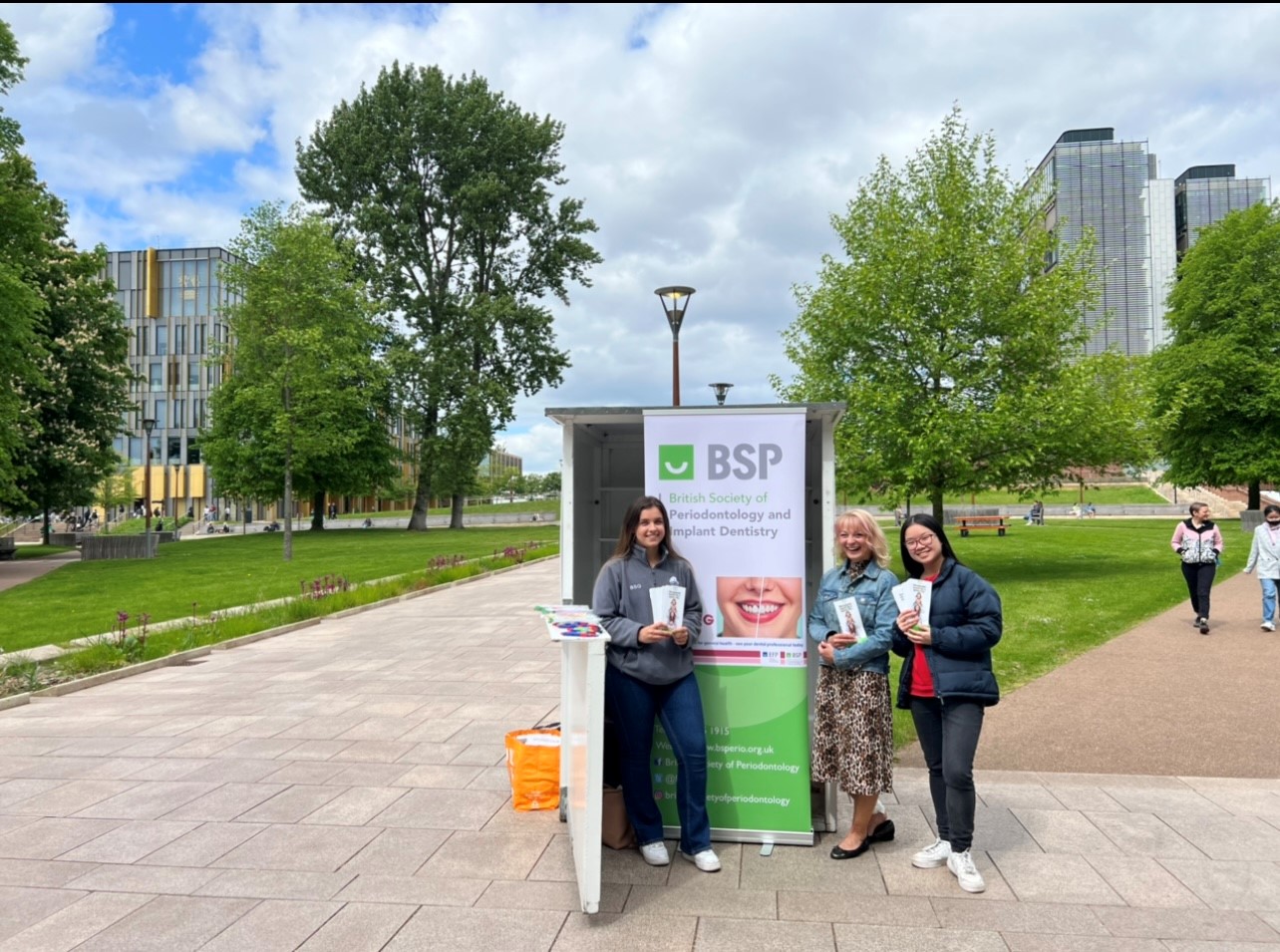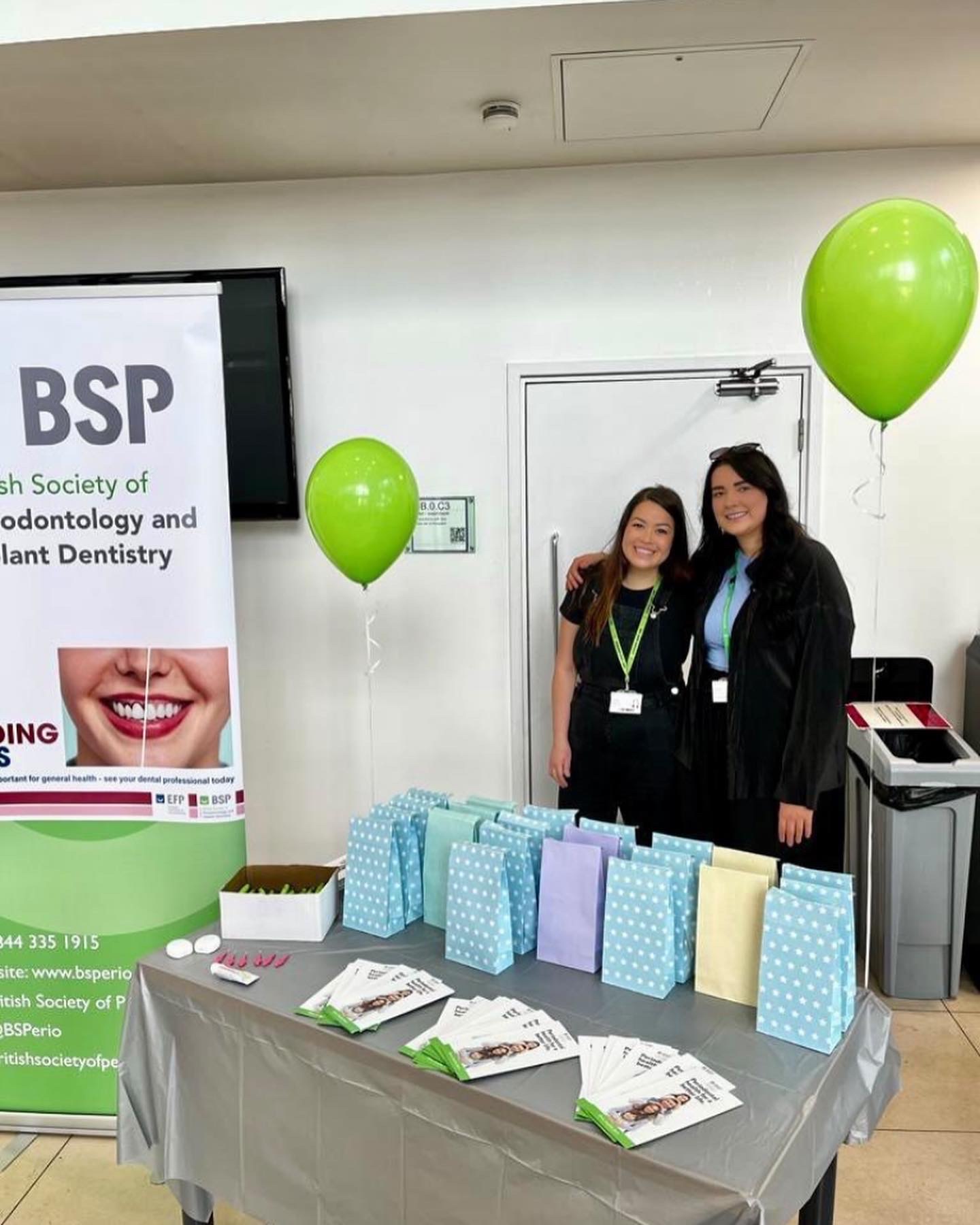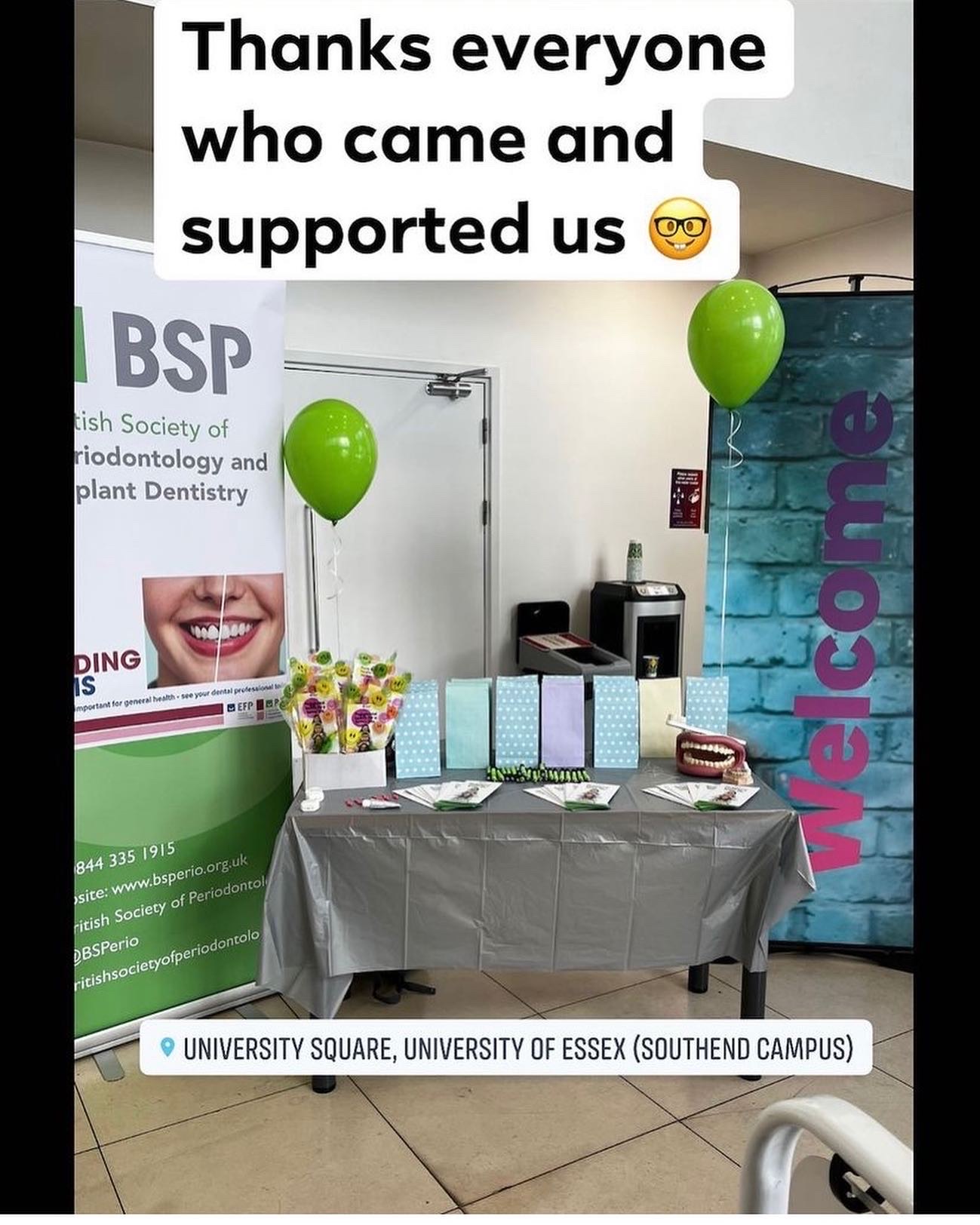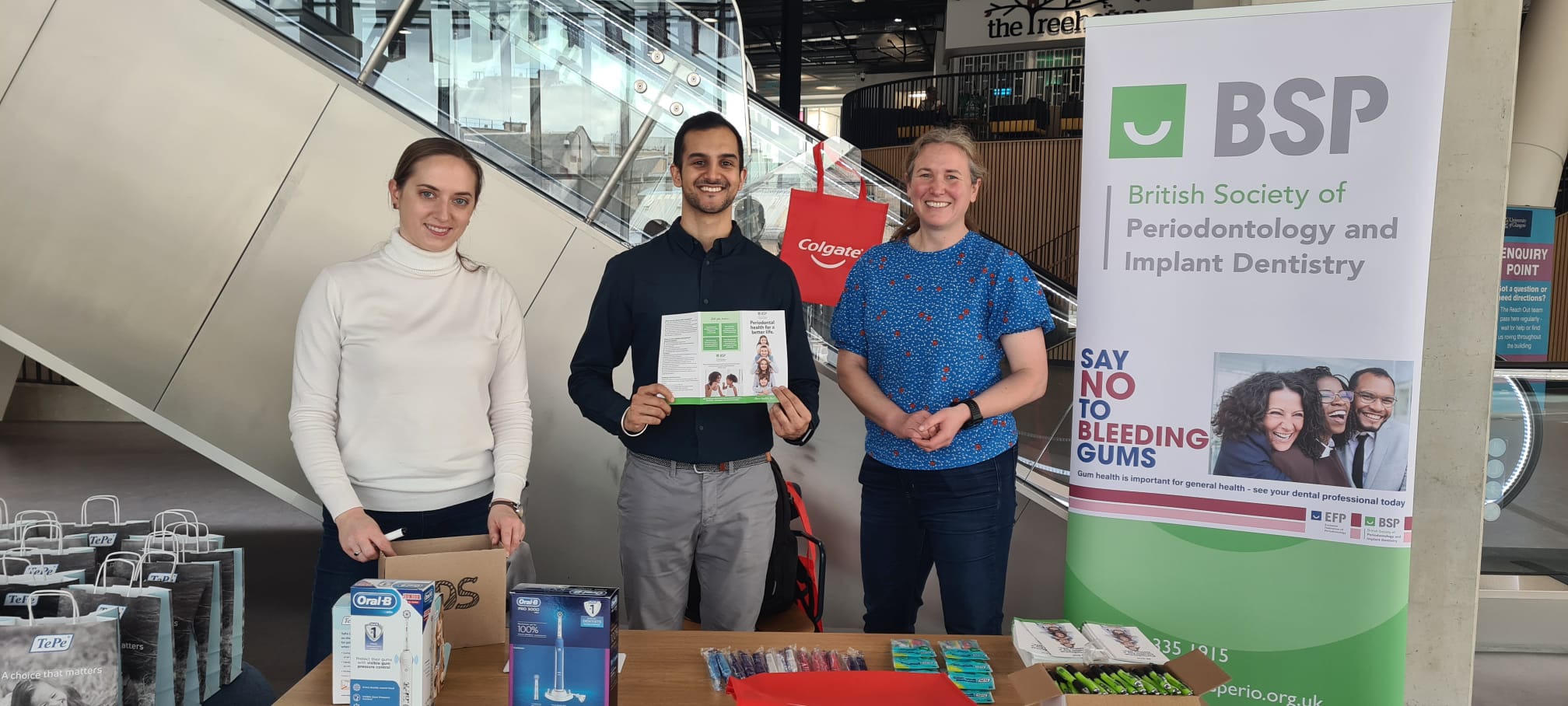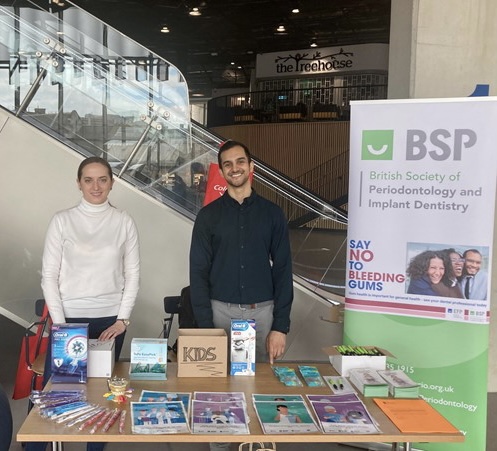 Useful Resources to download and share
Video
BSP President, Dr Rajan Nansi, discusses some of the initiatives that the Society are running this year and explains how dental care professionals can help support the campaign.
"Together, we can we can make a difference and improve gum health in the UK."
The planning behing EFP's Gum Health Day campaign

Gum Health Day 2022 is the ninth EFP-promoted annual awareness day implemented by the National Societies of Periodontology. This initiative is now global in its reach and impact.
Although still poorly acknowledged by the public, gum diseases are chronic inflammatory conditions affecting a high proportion of adults worldwide, causing tooth loss and other problems in the mouth. Crucially, gum diseases are also linked to major systemic health issues including diabetes mellitus, cardiovascular diseases, chronic kidney disease, adverse pregnancy outcomes, rheumatoid arthritis, Alzheimer's disease, erectile dysfunction, certain forms of cancer, and more severe Covid-19 outcomes. This means that gum diseases and their prevention and treatment are of major importance not only for oral health, but also for the whole body.
Coordinator of Gum Health Day 2022, professor Moritz Kebschull explains, "This year's campaign focuses heavily on the treatment part – we know that millions of people suffer from gum diseases that can be treated effectively, 'Treat your gums' calls for this treatment – with all the documented positive effects for the mouth and whole body – to actually happen." That is why the hashtag for the campaign is #TreatYourGums, and why the recent EFP-produced clinical practice guidelines on the treatment of periodontitis are a major part of the Gum Health Day 2022 initiative. The Guidelines, implemented by the BSP for use in the UK healthcare system, communicate in a very transparent way the evidence behind all the treatment interventions that we do in dealing with a case of periodontitis (gum disease). This is an important document, as the recommendations provide evidence-based support for specialists, dentists, dental hygienists and dental therapists.
"The new EFP-produced clinical practice guidelines on the treatment of all four stages of periodontitis are a crucial development, as they are the first high-quality international guidelines to outline a structured and easily implemented pathway for the efficient and effective treatment of gum disease. In a nutshell, gum disease treatment that works!"
Prof. kebschull adds: "It is important to underline that gum disease is one of the most widespread chronic diseases in the worldwide adult population, and that it is usually painless, so its early detection and successful treatment depends heavily on how fast the patient takes action."