BSP Commercial Use and Distribution Policy
One of the aims of the BSP is to promote the art and science of periodontology and dental implantology. To achieve this aim, we allow many of our resources to be downloaded and printed for your personal use, non-commercial teaching, research purpose or private study.
We will not allow any of our documentation to be amended, nor will we allow it to be hosted on any other websites or social media platforms. We are the owners of the copyright in many of the documents and any breach of these terms will be considered an infringement of our rights under the Copyright, Designs and Patents Act 1988. Furthermore, a breach of this policy may result in legal action.
If you wish to reproduce a BSP resource in a publication then please seek permission in writing from the Executive General Manager, Paula Dunn (admin@bsperio.org.uk). Such requests will be presented to BSP Council and their decision will be final. Any permissions granted will require an acknowledgement to be included in the publication giving credit for the resource to the BSP.
Patient Leaflet - Periodontal health for a better life
Delivering better oral health: an evidence-based toolkit for prevention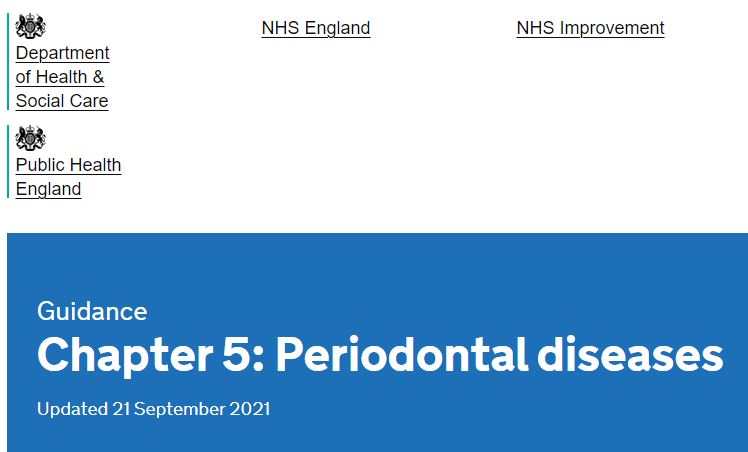 Public Health England published the fourth edition of "Delivering Better Oral Health: an evidence based toolkit for prevention" on the 21st September 2021. The publication can be found here: https://www.gov.uk/government/publications/delivering-better-oral-health-an-evidence-based-toolkit-for-prevention
This updated toolkit will help both dental teams and wider health and social care professionals alike to provide high quality preventative care and advice to their patients and people in their care. It can also be used as an evidence-based teaching resource. We wish to highlight the key new elements:
Delivering Better Oral: an evidence based toolkit for prevention (fourth edition) has been developed through a wider UK collaboration of experts, frontline practitioners and for the first time patient representatives
The toolkit has been published on gov.uk in a new digital format making it easily accessible on mobile devices
Although the summary tables (chapter 2) have not changed significantly, there is new content on:
infant feeding
early detection of oral cancer and more detail on tobacco cessation and alcohol reduction
a new table on tooth wear focusing on accelerated tooth wear
In addition, the importance of effectively supporting behaviour change is acknowledged with this chapter, coming immediately after the summary guidance tables, with practical examples as case studies. Throughout the new version of DBOH there has been a greater consideration of the oral health of older people and other vulnerable groups.